Spring 2018
Field Stations: Observatories of the Anthropocene
Year 3 Studio. Hong Kong University.
Andrea Pinochet.
With scattered, inconsistent and sometimes incompatible databases across the world, an increasing number of nature related risks, and the more recent emergence of "alternative facts", the agency of the witness is called upon.
Despite the seemingly superfluous amount of information available today, the collection of data does not cease to be a singular and essential activity of humankind. Collections of specimens and data offer us a glimpse into the entangled history of our planet. Human efforts to improve and exploit our environment have often relied on different form and technologies of measurement.
Tapping into architecture's capacity to synthesize different forms of natural and political data into dynamic spatial models, the studio will aim to develop prototypes for a series of field stations that enable the observation and collection of material and environmental "evidence" (or data).

-
studio guests: Sony, Thomas Tsang, Espen Vatn, Nasrine Seraji, Weijen Wan, Natalia Echeverri, Roberto Requejo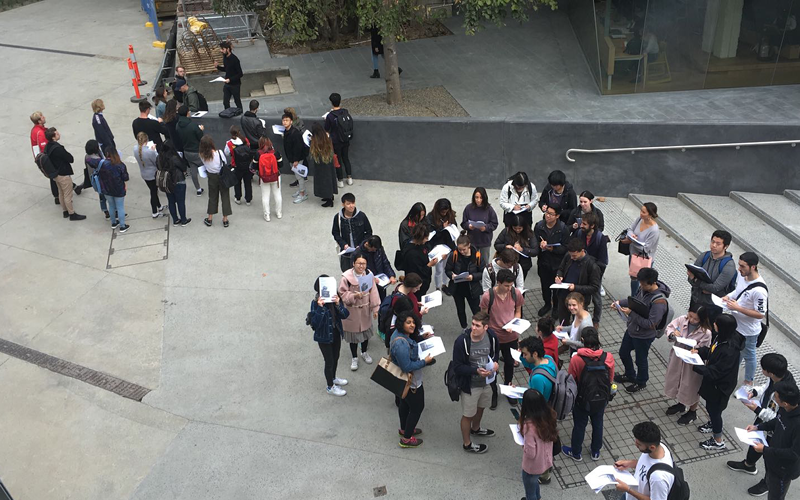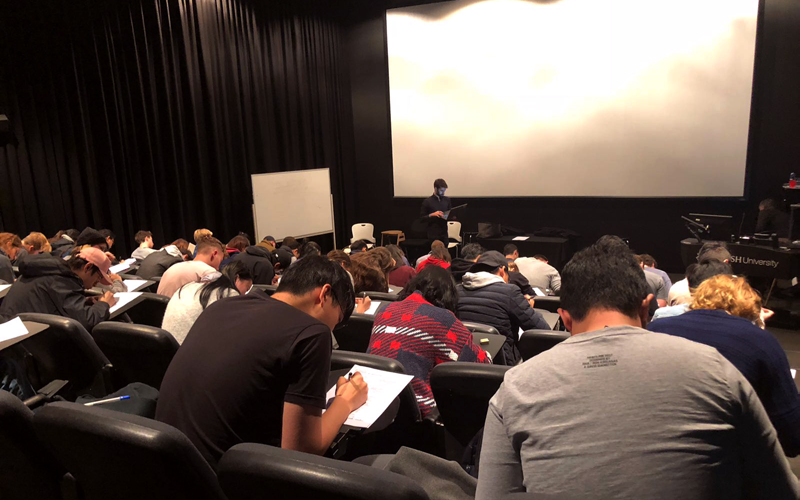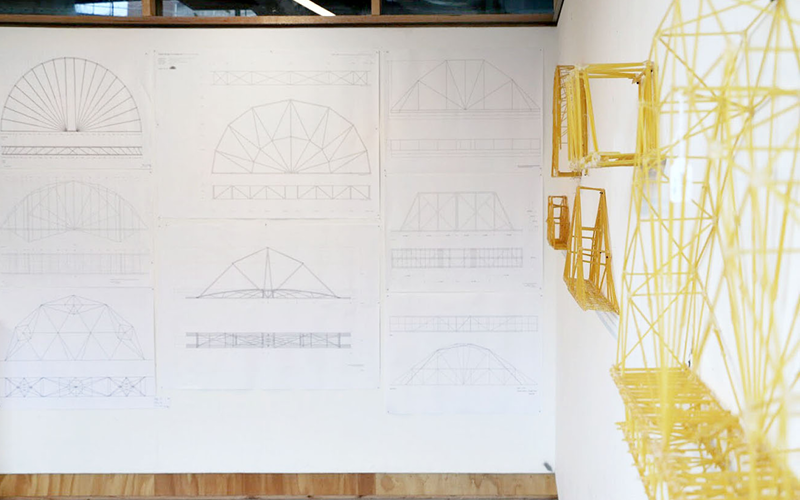 Technology 2: Structures

Year 2 Studio. Monash University.

Andrea Pinochet
This is an introductory course to the reading and design of structures. The course departs from the fundamental premise that structure is an integral part of an architectural creation.
In the course, we will trace back a history of construction and material technology in order to examine the physical properties of construction materials; identify and brake down structural concepts; and learn about building techniques through short exercises and the analysis of several case studies.
The seminar will introduce participants to technical drawing, structural elements and connections, material characterization, forces analysis and structural behavior. Working with regular exercises, drawing, modelmaking and site visits, students will learn to read and design simple structures.

-
unit tutors: Erich Wolf, John Bahoric, Eduard Fernandez, Ursula Chandler, Leandro Cappetto
teaching assistants: Isabella Peppard, David Mason, William Osborn
Fall 2017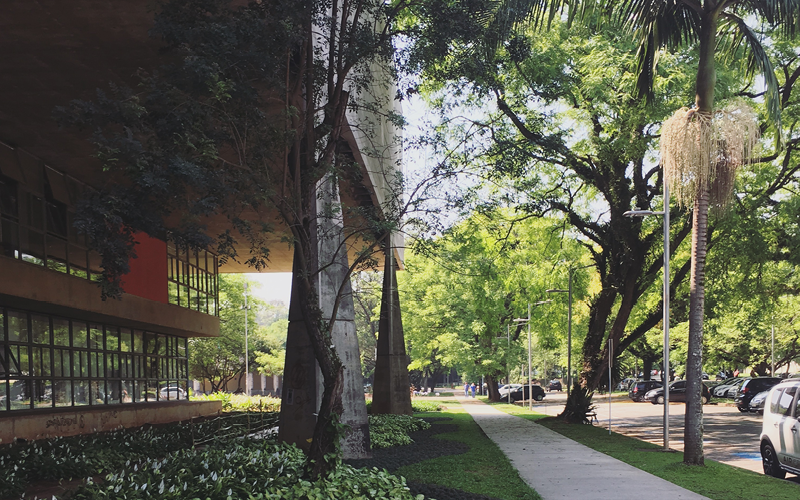 Civic Miniatures
Master Studio. AHO.
Espen Vatn, Jørgen Tandberg, Andrea Pinochet
What is the smallest possible form in which a public ambition in architecture can be manifested?
The studio will focus on small-scale buildings serving public functions. As an alternative to pharaonic scale public prestige projects, we will investigate how small public buildings can be instrumental in developing a direct engagement with a community.
The studio will work on recognizing and developing fundamenta civic qualities in architecture, and investigating how these can be serialized and translated into a specific condition in Sao Paulo, connecting to existing public building programs in Brazil.
The studio will revisit questions of typology and generality in relation
to site, investigating ways in which small (200-400m2), self-contained systematized structures can support
a specific social structure. We will investigate the possibilities for architecture to, in its implementation, be specific to its site condition, and still provide general answers relating
to type and the possibility for serial production.
-
excursion: São Paulo
-
studio guests: Angelo Bucci, David Turnbull, Adam Frampton, Jimenez Lai, Karolina Czeczeck, Beate Hølmebakk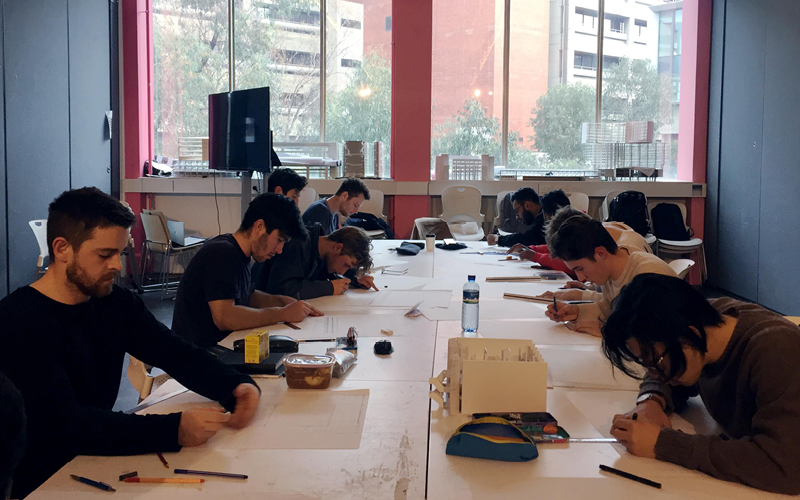 Universals: Architecure of the Post-Nation State
Year 2 Studio. Monash University.
Andrea Pinochet, Espen Vatn
International organizations are intrinsically linked to the birth of modernity. They were founded at the same time as the industrial revolution, modern technology, global capital and the dawn of rapid information flow. Regardless of this 200-year ongoing process of infiltrating boundaries and uniting poles, the wish for the definition of nation states seems to persist, even gain momentum, with cases like Brexit and the looming possibility of Grexit, Scottish Independence and other independence movements in Europe. Parallel to this, new migration patterns across the globe begin to raise questions about the mechanisms citizenship, resulting in ever more subdivisions, discriminatory processes and alienated communities.
This studio will address questions ideological potential of structure, seriality and adaptation by developing spatial and architectural responses to international organizations that work on policies, transnational protocols, procedural systems and standards, as examples of new forms of organizations that go beyond the notion of nation state.
-
Studio Guests: Ari Seligmann, Jacqui Alexander, Tom Morgan, Leandro Capetto, Eduardo Kairuz
Fall 2017
Material History: Critical MassAdvanced Studies Unit. Monash University.
Andrea Pinochet

What did the construction of the Centre Pompidou, or the World Trade Center, teach architects around the world about prefabrication? How did Mies lift the 65x65m long (64.8mx64.8m) roof of the Neue Nationalgallerie? And, why haven't cracked already the delicate 2,5cm thick marble sheets in Bunshaft's Rare Book Library?

Setting aside the distinction between the architect and the engineer, this seminar will discuss structure, reflecting on the history of construction and materials properties.

The course departs from the fundamental premise that structure is an integral part of an architectural creation, that architecture and structure are one and the same, and that they march together in all great built works. A structural principle, a detail, can embody and abstract an entire architectural idea. We will then will study structures from their most abstract form to the very physical act of construction —following the evolution of an idea into an image, a construction drawing, its physics, budgets and logistics— learning about building techniques through short exercises and the analysis of several case studies.


Spring 2017
Re-Store: MaintenanceMaster Studio. AHO.
Amandine Kastler, Erlend Skjeseth, Andrea Pinochet

In the 1984 film "…men Olsenbanden var ikke død", Edvard Munch's Scream is stolen and smuggled down the hose of a vacuum cleaner by a thief masquerading as a cleaning lady. She escapes the museum unseen, cloaked by the ordinariness of maintenance. Society places little value on the status of maintenance work in private, domestic and public space.

This year the Re-Store studio will seek to understand maintenance as a key form of preservation and preservation as an act of maintenance. The unassuming banality of maintenance systems allows them to surreptitiously become destructive and constructive acts of preservation. We will explore the impact of acts of maintenance as they transcend the preservation of cities, buildings and objects.


Taking the Munch Museum as a case study, we shall respond to the long-term research project City of Dislocation. The project identifies that within the next few years, the government's policy of centralization will affect more than twenty of Oslo's biggest institutions, each abandoning their purpose-built headquarters, either because of relocation or closure. Built in 1963 to maintain and exhibit Munch's collection it has been deemed no longer fit for purpose and will be left vacant when the collection moves to the new museum.
-
Study trip: London and Athens
-
Studio Guests: Daniel Ayat (Parsons), Eirik Bøhn (AHO), Chris Pierce (Architectural Association), Erik Langdalen (AHO), Toni Kauppila (KHIO), Aram Mooridian (Cambridge)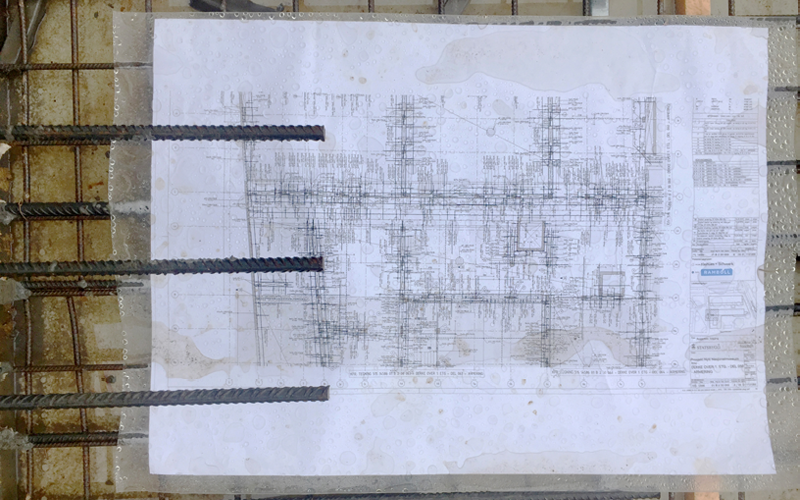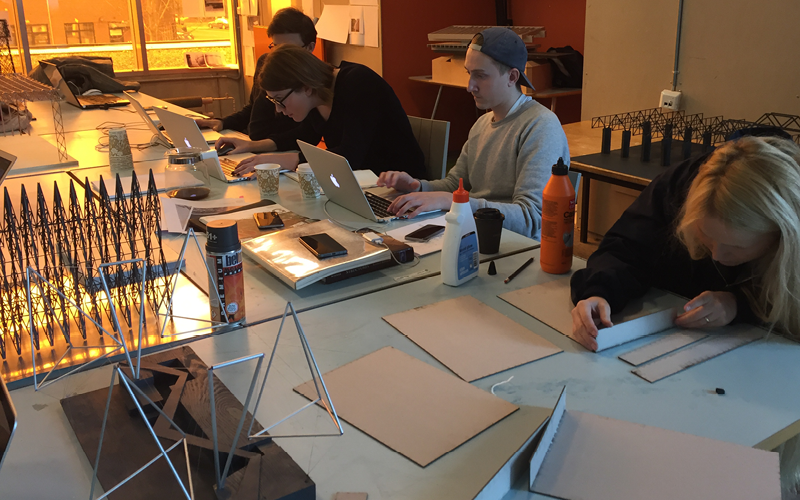 Material History: Reading and Design of Structures
Master seminar. AHO.
Andrea Pinochet
Introductory course to the history of construction materials and construction techniques.
The course is presented through a set of case studies - following the evolution of the architectural thought and practice across time. The course is based on seminar discussion and we will use drawing, model making and class presentations to examine multiple works, analysing the design process, material qualities and embedded structural concepts in relation to the context that fostered their creation.
How did we, for example, actually build our ancient temples without the machines and techniques we have today? How did the invention of rolled steel changed the course of history in architecture and the world? And how can we make 6cm thick shells that span a football field, or house a horizontal silo?
How did Corbusier make the roof of Ronchamp float?
From simple, short or tall buildings; to sophisticated and complex structures; we will delve in the world of construction, seeking answers to questions like this, in the drawing board, archives and site visits.
-
Study trips: New National Museum, Deichmanshe Akse w/ Juan Ruiz Anton, Florian Kosche Dip.Ing.

Fall 2016
Re-Store: SystemsMaster Studio. AHO.
Erik Langdalen, Andrea Pinochet, Jørgen Tandberg

Experimental preservation studio focusing on the study of building systems.
At large, architecture after 1945 has been advanced through the integration of systems: ventilation ducts, curtain walls, elevators, suspended ceilings, technical floors, waste-shafts, heating, plumbing, insulation, moveable walls, alarm and surveillance systems etc. These systems respond to our most fundamental needs: they help us breath, keep us warm, give us light, keep us safe, get rid of our waste, etc. They are more or less invisible, they are mass-produced, they belong to the global market of merchandise and shipping, and they are hardly ever considered to belong to the realm of Architecture. Paradoxically; if you take away these systems, it is difficult to inhabit this spaces comfortably considering contemporary building codes and living standards.

-
Study trip: New York
-
Studio Guests: Jorge Otero-Pailos, Andre Jaque, Amandine Kastler

Norwegian Architecture
Master seminar. AHO.
Andrea Pinochet
Introductory course to Norwegian architecture, its history and the contemporary sphere.
The course is primarily based on seminars and field trips, involving walking tours, proactive research and work with different media (drawing, Internet, sound, photography, video, etc).
In the course we will study the evolution of the architectural thought and practice within the Norwegian context. Through readings, class discussions and critical writing, this seminar will address the meaning of national identity, and explore a few of the ideas that dominated the means of architectural production through history in Norway.
Parallel to this, great attention will be given to the act of looking back in time and examining a work, working with archives and
roomofpossibilities.org
platform
-
Study trips: National Museum Archive, St Hallvard Kirke, Jarmund Vigsnæs Arkitekter, House in Holmekollen w/ Knut Hjeltnes, Bakkehaugen Kirke, Lund Slaatto Arkitekter, Skådalen, Chateu Neuf, Folketsmuseum w/ Kolbjørn Nesje Nybø, NVE-Bygg, Henie Onstad Kustsenter, Haslum Krematorium, Hamar Museum, Sørum Gård w/ Manthey Kula, Oslo City Hall
-
Guests: Mari Hvattum, Karl Otto Ellefsen, Paola Simone and Juan Ruíz Anton, Amandine Kastler and Erlend Skjeseth, Mirza Mujezinovic, Erik Langdalen, Jonas Lippestad