23.04.18
A comprehensive and playful presentation of the Henie Onstad collection marks the 50-year jubilee.
Curated by Caroline Ugelstad and designed by groma in consultation with Studio Vatn, the exhibition showcases works of Picasso, Miró, Ernst, Dubuffet and Matisse, as well as avant-guard works from the Cobra, Fluxus and Schwitters collections.
Join us for the opening this August 23rd.
24.05-20.06.18
Book Launch—
20 June at 17:00h
Oslo School of Architecture
Book preview—
24 May at 10:30h
Palazzo Badoer, aula consiglio
Università Iuav di Venezia
Book presentation—
26 May 2018 at 15:30h
Hong Kong Exhibition,
Campo della Tana,
Castello 2126-30122, Venezia
23.11.17
24 November 2017 – 11 March 2018
We are proud to announce that today
Henie Onstad Kunstsenter
opens its doors to Marina Abramović's retrospective
The Cleaner
, the most extensive presentation of Abramović's works in Norway to date.
The exhibition is curated by Tone Hansen and Lars Mørch Finborud with the help of +groma, and organized by Moderna Museet, Stockholm, in collaboration with the Louisiana Museum of Modern Art, Humlebæk, and Bundeskunsthalle, Bonn.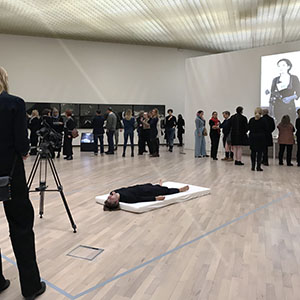 15.11.17
FEM ARK

A lecture series organised by a group of students from the Institute of Architecture and Culture at KADK. The series invites women in the architectural profession to share their work and experience. Lectures will be held in this fall Mandrupssalen and the Glass Box at Vandflyverhangaren.
#1 Eva Ravnborg – 7 November
#2 Malene Bach – 14 November
#3 Hanne Birk – 23 November
#4 Andrea Pinochet – 28 November
#5 Ellen Braae – 5 December
09.11.17
Andrea is a writing contributor to the first global survey of brutalist architecture from the 1950s to the 1970s, based on research project carried out collaboratively by Deutsches Architekturmuseum DAM and Wüstenrot Foundation. Edited by Oliver Elser, Philip Kurz, Peter Cachola Schmal.
11.10.17


AUH Encontros

Natureza da Arquitetura Norueguesa
Cultura Visual e História Intelectual: Arquivos e Coleções de Arquitetura
Convidados:
Thomas McQuillan
Erik Langdalen Arkitektkontor
Studio Vatn/Jørgen Tandberg Architecture
+groma

Sala 807 - às 12h00
FAU-USP
São Paulo


15.08.17

Join us for a free public talk by Norway-based architects Andrea Pinochet and Espen Vatn at Monash University in Melbourne, Australia.
Tuesday 15 August 2017, 5–6pm (*note new time)
MADA
Caulfield Campus
Building F, F2 Studios
Free entry, all welcome
09.06.17
A Place to Be. Contemporary Norwegian Architecture 2011–2016

Exhibition catalogue with texts from Andrea Pinochet, Anne Marit Lunde, Cecillie Andersson, Karl Otto Ellefsen, Ingerid Helsing Almaas, presents a selection of 25 projects dating from the past five years. All the projects were designed by Norwegian and international architects in Norway as well as foreign projects designed by Norwegian architects.
The Cleaner

+groma is working with Henie Ønstad Kunstsenter on the design of Marina Abramovic's retrospective: The Cleaner.



KTH talk

Andrea Pinochet will be speaking at the KTH School of Architecture in Stockholm on December 1st.
Please join!


Island Reader Exhibition

+groma is hosting an exhibition reflecting Lyngør's unique architecture, history, culture and topography. The exhibition consists of drawings, maps and physical models created by architecture students from the AA Visiting School Lyngør, giving thought to the act measuring and the means representation.
More info
here
05.08.16
João Doria and Andrea Pinochet will be leading the
Projection as Program+me
workshop for this year's edition of the Ventriloquist Summer School.
Join us for the public program and final exhibition at
Gallery 1857
, Oslo.
Krypton Film

The renovation of Krypton Film, a camera and film production studio in Oslo, is now underway!
The project is developed with
Studio Vatn.


26.05.16
Tabula Plena: Forms of Urban Preservation

The Tabula Plena
book containing an essay by Andrea Pinochet will launch at the Venice Biennale this coming May.
The book grew from a collaboration between the Oslo School of Architecture and Design and Columbia University's Graduate School of Architecture, Planning and Preservation on the planning of the government quarter in Oslo. Emerging from this process, the book asks larger questions about how we practice, teach, and theorize engagement with existing architecture on an urban scale.
The book launch will take place in the Nordic Pavilion at the Giardini on May 26th at 4pm. Followed by a brief introduction to the book and a short discussion hosted by the Oslo School of Architecture.
31.03.16